By Richard Flowers, ACCNP-Green Thumb Nursery-Ventura
I remember when I was younger, it was the day after Thanksgiving. I would get my garden ready for the holidays by rushing outside to start my annual tradition of decorating the outside of the house with multitudes of lights. I would string them up around the house, over and through trees, bushes, and to make a festive holiday wonderland. Some lights were twinkling, others were clear, and still others were icicle lights. I would always make an effort to decorate the living Star Pine planted in the front. With its  layered branches, bright green foliage, the Star Pine would gleam along with the rest of the house when darkness arrived. I would also plant up holiday planters with red and white Cyclamen, and dress them with Maidenhair Fern for filler or put Ivy to cascade down the sides. These decorative planters would be placed on the front porch which provided a lovely entry to the house. In other places I would have beautiful containers planted with red and white Kalanchoe, and other seasonal flowers like Pansies. I included fresh cut cedar garland draping its way around the front door which provided a lovely and fresh scent that welcomed guests when they came over. A fresh wreath is always hanging from the gate entering into the front courtyard. I put beautiful red poinsettias on both sides of the steps leading up to the porch. I also affixed a red bow around the mailbox to add charm for the holiday season.These joyous and seasonal outdoor decor complements well with already budding or blooming Yuletide Camellias and the reddish berries of the native California Christmas Berry. I always made a point to plant a living Christmas tree for the holidays to help the environment and enjoy for generations to come. Today these beings are a glorious 30 foot tall and planted along the  hillside in the back and side of the house. Decorating  the outdoor garden always puts a smile and joy in my heart and to others who stop by to visit.
Below I will give a brief explanation and inspiration of the items mentioned above and others for good measure:
Christmas Lights-  Not only do these eliminating beauties make the night time come alive, some  dance or twinkle, some are colored, and still others are icicle . With a wide selection and variety to choose from, we are the headquarters for holiday lights. My favorite ones are the white lights, because they can be used year-round.Some lights we carry are energy efficient LED. Who says you can't have a nightscape.
 Living Christmas trees- These living treasures are beautiful and you can bring a piece of the forest into your own garden. From the traditional and old fashioned looking Dwarf Alberta Spruce to the Colorado Blue, these timely garden trees will last for years to come. The more adaptable and better growing Star Pine, Deodar Cedar, and Nordman Fir are the best selections to use. Make sure you have plenty of space for them to grow. We carry other noteworthy Pines, Junipers, Cedars, and other conifers for your landscaping and holiday needs.
Cyclamen, Poinsettia, and other colorful plants- You can't go wrong with Poinsettias, they are a given to decorate your garden. But don't forget the everblooming succulent, Kalanchoe, which come in a variety of colors but red and white are the most popular for the holidays. The cheery and bright faced Pansy brings warmth to a cool day. Foliage plants like tropical houseplants, ivy and Maidenhair Fern work great  as a combination with other plants in decorative pots.
Yuletide Camellia and California Christmas Berry– Try your hand at the traditional Camellia that blooms during the holidays with its single red flowers and yellow middle. On the other end of the spectrum, the endemic California Christmas Berry provide decorative red berries and is a fancy for birds and fresh eating.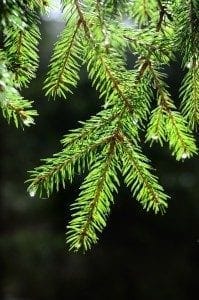 Garland, greens and fresh cut Christmas Trees-  Bring the smell of the forest to your home with fresh cut garland by the foot. You can use other fresh greenery and wreaths of Douglas Fir, Nobel Fir or Cedar inside and outside of your home. The outstanding selection of Noble and Douglas Firs as fresh cut trees is impressive and waiting for you.
Today, I don't decorate the garden to the extent I did back then, however I might try my hand at using decorative solar holiday lighting instead. These festive solar stake lights look great in a wide variety of situations. Place them in your garden, landscape, yard, balcony or pathway to add a pop of serene beauty at night. Each solar panel senses when day breaks to begin charging and when night falls to activate the light. What I like about these lights is that there is no need to have long, bulky cords, and wires to plug into the nearest outlet, and they install in seconds. These solar lights are equipped with an on and off switch, waterproof housing, and come in a variety of colors.
Come by and check out what your favorite Green Thumb Nursery has this holiday season, we are your Christmas headquarters and will help you get your garden ready for the holidays.

Do you like what you see? Sign up for our weekly newsletter to get content like this every week!