Written by David S.
For many of us, the joy of seeing a hummingbird is a positive and uplifting experience. It is no wonder that millions of people try to attract hummingbirds to their yards with feeders. While that is just fine, a better alternative is to entice the little beauties with plants that they love. In so doing, you might also coax them to nest and stay year-round. The focus of this newsletter is on plants that grow well in hardiness zones 9-11 and that Humming Birds cannot resist. 
1. Grevillea – Exotic, Beautiful and Unique 
Grevillea is a family of plants with a vast number of species. Most do not produce petals, but instead, have showy calyx with unusually long styles that make them look like alien plants. They are very beautiful and are designed to attract animals and insects that have long proboscis or beaks/tongues. That list includes hummingbirds, and they love grevillea. Grevillea is relatively easy to grow, and as tropical plants, they like heat and full sun. They will do well in a pot or in the ground provided that the soil is well-drained and rich in organic matter. The soil needs to be consistently moist, so it is a good idea to use mulch. 

2. Tecoma's – The Trumpet Bush
Tecoma is easy to grow, and they come in many colors and primarily in yellows, oranges, and reds. The bright colors and long trumpet-like flowers are irresistible to hummingbirds. These are tropical plants and grow well in zones 9-11, and some will survive in climates down to hardiness zone 7b. They need full sun but will tolerate partial shade at the expense of few blooms. Growing Tecoma is easy, but you must have fast-draining soil with a good amount of organic material. As a tropical plant, they like the soil to remain moist but not have standing water. To help this, consider using a soil product such as Baby Bu's. This product contains coconut fiber which allows the soil to drain but also absorbs water. When paired with quality mulch, Tecoma plants thrive. These are an excellent plant for trellis, pergola, and arches. 
3. Honeysuckle – A Beautiful, Fragrant Climber
Honeysuckle produces an array of flowers from small and elegant to larger and fancy. The bloom depends on the species of the plant you choose. Hummingbirds love them and are attracted by the lovely shades of colors. The flowers range from creamy white to yellow, oranges, and even reds. Honeysuckle can grow to 20 feet (ca. 6 m) and should be paired with a quality trellis or pergola. They are one plant that is also useful for blocking eyesores, and their dense foliage can help reduce noise pollutions. Soil needs are much like other tropical plants — Well-drained with lots of organic matter and a good layer of mulch. These will do well in a container but need watering regularly. They prefer full sun.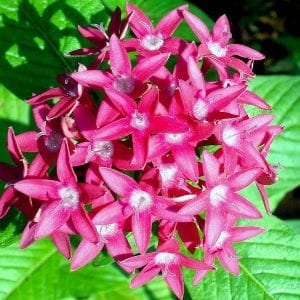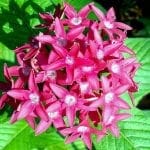 4.  Pentas – The Egyptian Stars 
Penta is beautiful five-petal flowers in pinks, reds, and whites, and recently new colors have been introduced including deep purple. Hummingbirds love them as will you. They grow to around six feet in height and are perfect for containers or in-ground planting. They need well-drained soil and a good layer of mulch. They do not do well in temperatures below 65 degrees F and will need to be covered or brought indoors for winter.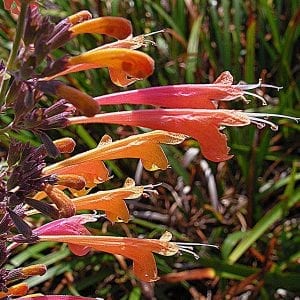 5. Hummingbird Mint – Beautiful Red – Orange Blooms
You might have guessed by the name that this plant is a favorite of hummingbirds. The beautiful red-orange spike flowers are perfect nectar producers for hummers. This is a semi-drought tolerant plant, but the trade-off for less water is fewer blooms. Like most tropical plants, Hummingbird Mint needs well-drained soil with plenty of compost or organic matter and a good, thick layer of mulch. 
6. Cuphea Ignea – The Cigar Plant 
Cuphea Ignea gets its common name – The Cigar Plant – from its beautiful blooms, which feature red cigar-like flowers with a black end with white tip. These are easy to grow and have a weepy tendency to dangle clusters of gorgeous blooms. They are perfect for the 9b-12 hardiness zones and love full sun. Grow them in well-drained soil with plenty of organic matter and a layer of mulch. 
7.  Russelia – The Firecracker Plant 
Russelia produce beautiful tiny flowers that look like clusters of firecrackers. These do well on a trellis or arch and add a dynamic and dramatic addition to your yard and landscaping. Plus, Hummers love them. They bloom from spring into the fall and prefer full sun. They are perfect for zones 9-11. They do require regular watering to keep the bush full of blossoms.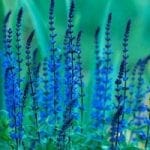 8. Salvia – Beautiful flowering Sages 
Salvia is a large family of plants that we know as sages. Common sage such as that we use to cook with is not the best choice. Happily, many sages produce beautiful blooms. Pineapple sage is a favorite as is  Hot Lips, black and blue salvia, Scarlet Texas Sage, and  Bedding Sage. In fact, the number of options is so large it is best to visit the nursery and see them in person. These all do well in containers and are very easy to grow so long as they have proper watering. They can grow large so space them appropriately, 
You might have noticed that the plant list is full of tropicals and all with bright showy flowers. Big, bold, and dynamic blooms are what hummers love. Be sure to call ahead if you have a specific plant in mind as the inventory in each store changes daily. You can call, visit us online, or just stop by one of our Southern California locations. We are happy to answer your questions and give you expert advice. 


Do you like what you see? Sign up for our weekly newsletter to get content like this every week!