Written by Alicia R.
Decorating for the holidays brightens late autumn and early winter's short hours of daylight. It's a rare person who doesn't welcome twinkling strands of lights that scallop rooflines and bejewel shrubbery and the bare branches of trees.
Indoors, lights twine around Christmas trees, railings, windows, and wreaths. The heady fragrance of fresh evergreen branches and perfumed candles further lifts spirits when days turn dark and chilly.
At each of Green Thumb Nursery's five garden centers, we offer a broad array of holiday decorating cheer, including trees — both real and artificial — and decorations. Here are some choices for enlivening your holiday look.
A Forest of Lovely Trees
From traditional fresh-cut evergreens to glittery, retro 1950s trees, Green Thumb meets many tastes and needs.
Fresh-cut Christmas trees. You can expect to find the fullest, freshest choices at our garden centers in heights from 2 to 12 feet tall. Some are available with flocking. Although stock may vary day by day from one center to another, these are the types of evergreens you may discover here:
Fraser fir — dark green with upturned branches
Grand fir — thick foliage with strong fragrance
Noble fir — blue-green needles with silvery undersides on strong, stiff branches

Nordmann

 fir — lush, soft-needled foliage, and
Plantation Douglas fir — dense and bushy with soft needles.
Living Christmas trees. Christmas trees are raised on farms much the same as wheat, corn, and other renewable crops. However, we know there are many reasons why customers may prefer container-grown trees to maintain on patios from one holiday season to the next or to plant in the yard following Christmas.
Colorado spruce, Alberta spruce, and Nordmann fir are container species you're likely to find at Green Thumb centers. Important practices to remember in maintaining your potted conifer include:
Don't let the root ball dry out or become soggy.
While indoors, keep it away from sources of heat, including TVs.
Return it outdoors after no more than seven days.
Time-release fertilizer is a good way to feed your tree.
Repot it to a container about one-third larger than its old pot after multiple seasons if needles yellow or growth stunts. Contact Green Thumb if you need tips about how to do this.
Realistic looking artificial Xmas trees. A well-made artificial fir lasts a long time and is easy to store between holiday seasons. We sell artificial trees ranging in height from 3 to 9 feet tall, and some are permanently pre-lit to make decorating super easy. Stock varies by day and by garden center, but here are some of the types you may find available at Green Thumb: balsam fir; blue spruce; foxtail; mountain tree; New England; Oregon; Russian slim; and snowy Norway.
Delightfully unrealistic, retro metal trees. For those who love Mid-Century Modern design, check out our 1950s-style trees in shiny silver, gold, blue, green, and pink metal. Keep the period look crisp and simple by massing glass globes in one or two colors. You may want to cuddle up on the couch to I Love Lucy or Mad Men reruns.
When visiting one of our centers, be sure to closely view our examples of fully decorated artificial trees to visualize how they may look in your home.
Decorations Galore
Our holiday department is well stocked with lighting choices and decorations for tree, table, wall and outdoors, including cute holiday flags.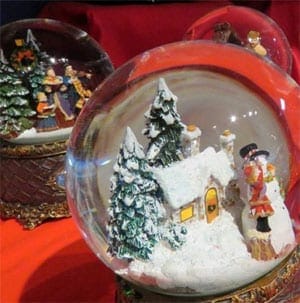 Let there be twinkling, glowing lights. We offer many types of LED strand lighting in clear bulbs as well as a rainbow of colors. You'll find bubble lights and multi-faceted starlight globes along with shiny tree toppers that include LED stars. Tapers, candlesticks, fragrant jarred candles, and holiday themed solar lights for outdoor pathways also are available to light up the dark.
Tree Ornaments. Whether you want to create a theme tree with a limited variety of decorations or an old-fashioned display of many favorites, we have what you need including angels, blown glass figurines, candy canes, cheerful elves, crystal icicles, glittering pinecones, glittering flowers and foliage, snowflakes, and tiny Santa figurines.
Supersized globes for shade trees. Perhaps you've noticed the large, lightweight glass globes — about the size of small soccer balls —  that have become popular for hanging from the branches of deciduous trees. We have them.
Winter Village Decor
Oh, the weather outside may be delightful — after all, we are in Southern California — but somewhere it is snowing. (Apologies to Sammy Cahn and Jimmy Buffet for that mashup of lyrics.) Winter village scenes with snowy rooftops, glowing windows, miniature fir trees, and children ice skating are alluring at this time of year.
Green Thumb garden centers have what you need to create a winter fantasy in your living room, because we sell miniature village collectibles from Minnesota's Department 56, such as the company's Original Snow Village series. It's based on the fictional Griswold family (circa 1950s) and includes an old fashioned Dairy Queen and the Village Feed & Supply shop.
Other fine collectibles available at Green Thumb include handmade caroler figurines from Pennsylvania's Byers' Choice. The company grew out Joyce Byers holiday gift crafting for family and friends in the 1960s. Now, the carolers are so popular that the company shares part of its profits with charities worldwide through its family foundation. Maybe a Byers' caroler is the feel-good gift you need for someone special.
Feel-Good Garden Centers
Don't forget that holiday houseplants, including poinsettias, and winter-blooming delights such as camellias for the outdoor garden are also available at Green Thumb centers. We're always ready to help you find what you need to light up your life and landscape. Visit or contact us today for answers to your decorating and gardening questions.
Do you like what you see? Sign up for our weekly newsletter to get content like this every week!