An indoor garden DIY project can easily be put together using some air plants and driftwood.
Air plants are the go-to for indoor garden decoration because they are about as easy as it gets when it comes to plants, they don't require being planted! Air plants receive all of the nutrients they need from the air and the small amount of water that they require, that's right folks, no soil is required.
This means that there are not the same space requirements needed when potting air plants, which opens up a large amount of creative options when considering how you'd like to decorate your space.
Many air plants have interesting shapes that could make for the perfect centerpiece on the dining room table if nestled into a charismatic driftwood piece.
Interested in creating an elegant air plant wall art piece? Green Thumb Nursery has many interesting driftwood pieces for your selection.  Grab your favorite piece of wood and use a hot glue gun to fasten it to a flat piece of wood.  Attach your air plants to the front of your drift wood using a tiny bit of hot glue (the plants won't mind) and hang your masterpiece onto the wall.  Check out our Classes & Events page for possible upcoming driftwood classes.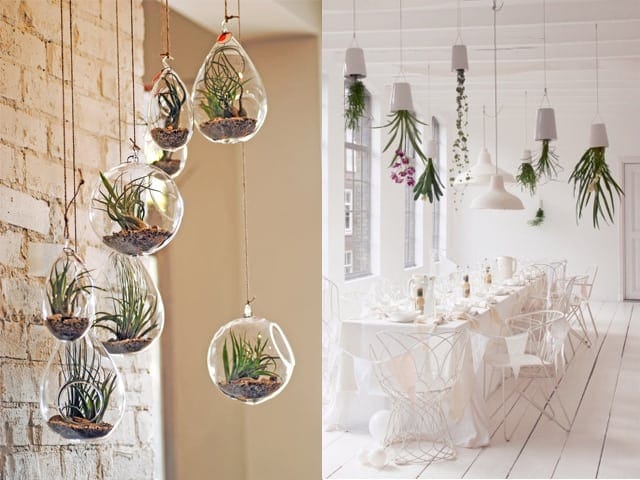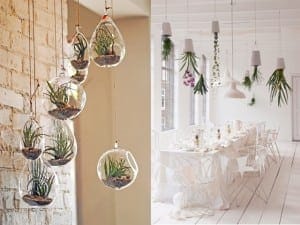 Air plants also look wonderful when hung from glass terrariums.  If you'd like to learn more about creative terrarium planting click here.  Fill your air plant terrarium up with rocks, moss and dried grass and just simply place your air plant inside without soil.  Hang your terrarium near a sunny window but be sure to avoid direct sunlight!  When your air plant looks a bit dry, simply take it out of your terrarium and spray the air plant with a spray bottle of water and replace it, that's it!
It is important to mention that air plants will need a sunny window, temperatures between 45 and 90 degrees and should be sprayed with water occasionally.
We have all of the supplies needed to complete your very own DIY project using air plants so come on down to Green Thumb Nursery and get started on your very own today!  It is a fun and great way to decorate your indoor space, and makes for a great gift to friends and family too!