Written by David S.
In this newsletter, we focus on landscaping for decks and patios with plant selections that add to the aesthetics of the deck or patio. Keep reading our "Deck it Out" newsletter to learn more about choosing the right plants and features for your outdoor living space.
Choosing great plants for Your Deck or Patio Landscape
It is hard to go wrong with beautiful plants such as:

Hibiscus – Big beautiful blooms in many colors. Hibiscus plants are known for their vivid and beautiful contrasting colors. These grow well in pots, and they love full sun. These are tropical plants, so they will need protection from frosts but generally, are easy to grow in hardiness zones 9-20. The trick to growing beautiful Hibiscus is to keep the soil fertile, but well-drained. Quality liquid fertilizer also helps.
Roses – A favorite of many people, roses offer a beautiful and easy way to add color and drama to a deck, especially if you choose a climbing rose. Roses do well in pots, and with the simple addition of a trellis, you can gain a beautiful addition to the quality of outdoor living.
Mandevilla – Beautiful, tropical vining plants that offer a full array of blossoms. These make beautiful plants for hiding eyesores as they can grow to 15 feet in a single season. They love full sun and are easy to train on a trellis or pergola. There are two general categories of Mandevillas – the climbers and the mounders. Mounding Mandevillas work best in border gardens and in spots where you want the showy blossoms but not all of the height you'd gain with the climbers. These are relatively easy to grow so long as they have plenty of sun, and the soil stays moist. They also do not tolerate frost at all, so if your microclimate has frost in winter or spring, then the Mandevillas will need to come indoors. As a container plant, it is hard to beat the constant blooming Mandevillas. They offer red, pink and white blossoms and sometimes are variegated.
Daylilies – Beautiful and exotic, the day lily makes an outstanding addition to a deck or patio. When not in bloom, the tall – frond-like leaves make a beautiful texture of green for backgrounds. The blooming cycle can last upwards of 40 days, which is why this plant makes a great addition to outdoor living spaces such as decks. The bloom colors range from a light creamy white to deep red with many options in the yellow and gold range from which you can choose. The versatility of daylilies is one of its strongest points. The fact that they are super easy to grow makes it a favorite. Their soil requirements are vast too, but they tend to bloom the best in well-drained soil that is rich in organic materials.

All four of these beauties grow well in pots, which is a significant criterion for deck or patio plants. As such, it is mandatory to start with a quality growing medium, and for deck containers, we recommend Baby Bu's Potting Soil and/or Grow Power – All-Purpose Fertilizer. We will get into the details a bit later but keep in mind that a container garden is an artificial growing environment and the right growing medium must help the plant meet its survival-growing criteria.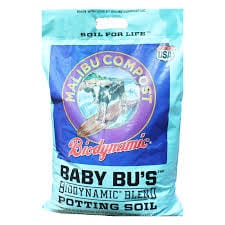 Baby Bu's Potting Soil
This is an organic soil that is free of GMOs. It offers a coco coir base that allows the soil to drain well and still maintain water. The thicker and robust coir helps improve soil, which boosts the beneficial organism populations making the soil ideal for container gardens on decks or patios. As a bonus to all the goodness in Baby Bu's, the soil is biodynamic, which means it comes primed with all of the beneficial organisms that help plants survive and thrive. This is one of our favorites because it retains enough water to help plants survive the rich and hot Southern California Summers.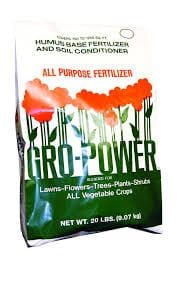 Gro Power Fertilizer
Gro Power Fertilizer – An excellent brand that offers many options for choosing a fertilizer, and that is an essential requirement for container gardens for the deck or patio. The deal is that many plants have different fertilizer needs. This is also the beauty of a container garden as you can mix plants that might not grow well together and still have an easy time controlling the environment in which they grow
If you have a deck or patio project and want additional information about plants or products that support your project, then just visit us online, call us, or stop by one of our locations. Each Green Thumb Nursery carries a variety of products, and due to the popularity of gardening and landscaping, those products change often. We recommend calling ahead to check inventory for unique plants or just to ask questions about your plant selection.
NOTE: August, which is just a few weeks away is a great time to start to select seeds and plants for your fall/winter veg garden.
Do you like what you see? Sign up for our weekly newsletter to get content like this every week!