Written by David S.
Sustainable Landscapes
A sustainable landscape is one that fits within the ongoing resource allotment for care and upkeep. It includes actionable such as water reduction, decreased maintenance, drought tolerances, etc. It also should provide a benefit to the property, such as the reduction in erosion by air and water, visual stimulus, positive property value, etc. All of these things can be challenging in hardiness zones 9 and 10. In this newsletter, we discuss some tricks that can help property owners throughout Southern California to adjust landscaping and gardening practices in ways that create beautiful landscapes without the ongoing "sink" of resources.
Before You Plant
One of the most significant resources spent on landscaping is water and water is on everyone's mind in Southern California. Your goal is two-fold. First, you want to choose plants that are less dependent upon water and secondly, you want to set up the soil so that it holds water.
Choosing Plants
Plants grow in particular conditions, and many are sensitive to temperature. What this means is that where you live has an impact on the types of plants you choose. Temperatures change daily, seasonally, and are influenced by altitude and location – inland, coastal, etc. The first thing to understand is the hardiness zone where you live. Take this information with a grain of salt as it is displayed based on zip code, and there are plenty of micro-climates throughout a zip code. What is important is the average high and average low.
Sustainable plants will fit into your climate. Plants that are native to your area are a good choice, but native plants might not be the most attractive. Talk with our experts about substitutions. Many plants will fit your climate.
Black Eyed Susan is a beautiful sunflower-like plant with vivid yellow petals and a black center. They are a prime example of a zone 9 drought tolerant plant. Agastache cana Rosita is another beautiful option. Not only does it thrive in zone 9, but its impressive magenta spikes of flowers also attract hummingbirds. Among the beautiful flowering plants add herbs, such as wooly thyme and grasses such as Schizachyrium scoparium and its slightly blued blades. Then there are the seemingly millions of options from the salvia family. Black and blue sage, purple sage, and many others.
One idea is to paint your landscape with colors from plants. This means thinking past blooms to leaf colors. A beautiful and variegated bed with plants that offer different tones of green is very striking. Some plants also put on a fall show or an explosion of blooms in the spring.
Using Less Water
Water is a natural resource about which most of us have concerns which stem from environmental issues, cost, and even availability. Sustainable landscapes include a water-saving factor or two. Xeriscape types of landscapes do not require irrigation or excessive water and work well in water-reduction landscaping. Another is specialized soil that holds water so that plants have access to water longer. In Southern California, one significant factor about watering is the loss of water from evaporation. That is why it is essential to design beds that hold water deeper in the ground where evaporation occurs less. You can do that with water-retaining soils, such as FoxFarms Salamander Soil. Green Thumb Nursery carries a few varieties of water-retaining soil. The role of these soils goes past water saving as they are created to enhance the beneficial organisms in the soil. In a dry environment, earthworms and other helpful creatures either go deep into the earth or they die. Healthy plants need beneficial organisms to convert organic material in the soil into usable forms of organic chemicals.
The trick to using water-retention soil is only to use it within the root zone of the plant and not across the entire bed. If you are planting in containers, then fill the container's bottom with water retention soil to the root zone of the plants. The top layer of soil should be an organic type of soil that matches the plant's needs. By planting using this method, you will also cut down on weeds as the weeds will not have access to the water. In short, water retention soils help to save water and reduce labor. Other soil types to consider include: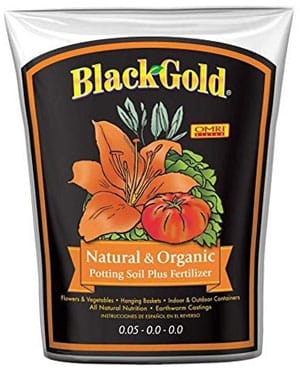 Black Gold Organic Soil – We love Black Gold Soil. It is available in indoor and outdoor mixes, and they offer plenty of specialty blends so that you can efficiently and sustainably address the unique needs of each plant.
Malibu Compost Soil – Malibu Compost Soil is a biodynamic blend of nutrients and beneficial biota. A great product to jump-start the beneficial organisms in your soil. They also offer a compost tea that is wonderful for specialized treatment to plants. The tea comes in smaller bags for long-term use as only a little is needed, and the results are beautiful.
The Short of It
Sustainable landscaping means a lot of things to different people. In landscaping, it is easy to achieve sustainable effects with a little planning. Start with your goals and work outwards from there. What is it you want to achieve. Remember that you can stop by the Green Thumb Nursery and ask our experts or visit us online. We have a lot of resources and knowledge of plants, products, and sustainability.
Keep in mind that plant and product availability changes daily for each of our five store locations throughout Southern California, if you are interested in a particular plant featured in our garden newsletter it is always best to call ahead and check if it is available.
Do you like what you see? Sign up for our weekly newsletter to get content like this every week!