Long Version – 4 Foot Hummingbird Feeder – Limited Availability – Order Now
Out of stock
Please note: be sure to place your order by December 19th to guarantee you'll receive your items before Christmas
We will be getting stock in each week so if our inventory sells out, don't worry! Please be patient, we will be able to fulfill your order as inventory becomes available.
Looking to feed all of your hummingbirds at once — from just one feeder?
The revolutionary 4-Foot Hummingbird Feeder offers a whopping 44 feeding ports in one easy to fill and easy to clean feeder.
This feeder hangs horizontally from your porch or patio. Each port is perfectly spaced to allow hummingbirds to feed side-by-side, meaning you could literally be feeding 44 hummingbirds at one time.
This feeder is built of a shatterproof clear plastic, which allows you to monitor nectar levels. The feeder ports are molded with red plastic, a color that's a proven attractant to hummingbirds. The hanging cords, end caps and stopper are a matching red, adding to your chances a hummingbird will investigate the massive feeder.
With this feeder, you'll have the ultimate hummingbird feeder!
How to hang: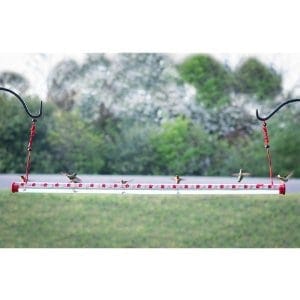 Remove an end cap.
Remove nectar-pouring funnel from tube.
Replace the end cap.
Select an outdoor area to hang the feeder
Hang using loops at end of hanging cords — make sure the feeder is low enough to access for refilling and cleaning.
Level the feeder by adjusting its cords. Slide cord locks up and down as needed to level.
***MAKE SURE THE FEEDER IS COMPLETELY LEVEL BEFORE FILLING IT WITH NECTAR***
Remove rubber stopper from nectar basin and insert funnel.
Fill about 1/4th full with hummingbird nectar. Compare each end by eye. If nectar is pooling to one side, then adjust cord locks again.
Once nectar is evenly distributed, continue to fill nectar basin until half full. Do not overfill.
Remove funnel, insert rubber stopper.
Hummingbird Nectar
For best results, provide your hummingbirds with 100% sucrose formula nectar. Sucrose-based nectar is the ideal food for hummers since it converts to energy quicker.
Only fill the feeder about half-full. Overfilling the feeder can cause leakage (do not fill more than half)
44 Feeding Ports Hummingbird Feeder — 4 ft – Specs
What's in the Box:
One 4-foot feeder
Two adjustable chords for hanging
Specifications:
44 feeding ports
46 inches long
2 inches wide
holds 32 ounces of nectar
Easy-grip cord locks
Rubberized end caps
Rubber stopper
We have very limited stock of these feeders (only 77 to start with of the 4' long version and 40 to start with of the 2' short version).  Due to the limitations we have to stock, you will only be able to purchase one feeder of each feeder size per order.  You may place more than one order for additional feeders after your order is completed, but to try and make this as fair as possible for everyone we set a limit of one feeder per feeder size per order to begin with.
Stockouts:
If stock runs out and you are not able to purchase a feeder this time around, don't panic, we have an additional 500 feeders in production now and are looking to have another 2,000 ready to be shipped during the first couple of weeks of February.  We are doing our very best to provide enough feeders for everyone in the fairest way we know possible so please be patient with us if you are not able to purchase your feeder before they sell out.
Shipping:
Please give us a few days time after your order is placed to package, label, and ship.  More shipping information regarding your order will be available on request. Please allow for a week or two for your feeders to arrive.
Dimensions:
4' Hummingbird feeder specs:
46 inches long x 2 inches wide
Holds 32 ounces
2' Hummingbird feeder specs
24 inches long x 2 inches wide
Holds 16 ounces
Shipping Pricing:  
4' Hummingbird feeder –  $14.99 shipping ea.
2' Hummingbird feeder – $11.99 shipping ea.
Disclaimers:
*Feeder must be hung completely level before filling with nectar to avoid filling and feeder must only be filled half full at all times.  See instructions via our website above.
*If you decide you would like to return your feeder after receiving it, we require that the customer pay to have the feeder shipped back to our store to have the feeder's price refunded.  All shipping costs incurred will not be refunded.  We only accept returns for brand new, never been used feeders.
Thanks so much for your interest and commitment,
Sincerely,
Green Thumb Nursery
| | |
| --- | --- |
| Weight | 2.36 lbs |
| Dimensions | 3 × 3 × 48 in |